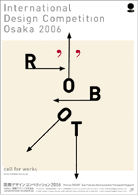 A "Japan Design Foundation" está a organizar mais uma edição do concurso internacional de design de Osaka 2006, sob o lema "conveying visions and messages concerning the future of humankind".
(Na edição anterior foi premiado um Português: Jorge Graça Costa com o trabalho See-Trough Wall).
O tema principal é "Robot", existindo ainda três sub-temas: "Communicate", "Transport", "Support".
O objectivo deste concurso é a criação de mais oportunidades de diálogo e comércio entre designers e fabricantes. Procuram-se novas ideias e projectos que possam originar o surgimento de novos mercados e produtos nos próximos anos.
O prémio de Ouro é de 10.000 USD, a Prata é de 5.000 USD e o Bronze é de 2.500 USD
A submissão de propostas inicia-se no próximo dia 20 de Setembro de 2006 e encerra a 22 de Outubro de 2006.
A avaliação decorrerá entre 14 e 15 de Novembro de 2006.
Os vencedores serão anunciados no princípio de Fevereiro de 2007.
Para mais informação contactem:
e-mail: compe2006@jdf-compe.com
homepage: http://www.jdf.or.jp/eng