# Ergonomics - Real Design
| Design Museum of London
"Ergonomics is the unsung hero of good design and is often only noticeable by its absence, when a product is badly designed or fails to be user-friendly."
O Museu do Design, de Londres, em colaboração com a Universidade de Brunel, exibem uma exposição dedicada aos contributos da Ergonomia para o Design -
"Ergonomics - Real Design"
.
A exposição, inserida nas celebrações do 60º aniversário da Ergonomics Society (primeira associação de Ergonomia do mundo) estará patente até
07 de Março de 2010
.
Ler comunicado à imprensa (Pdf).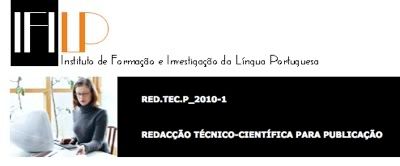 # Redacção Técnico-Científica para Publicação
o
IFILP
irá realizar, em Janeiro de 2010, de uma nova edição da acção «RED.TEC.P – Redacção Técnico-Científica para Publicação», destinada a autores que publicam ou que pensam vir a publicar.
O RED.TEC.P pretende ajudar os autores a rentabilizarem o tempo entre a criação do manuscrito e a arte final da obra, e a adquirirem um maior controlo sobre a qualidade final da publicação.
A acção aborda quatro vertentes:
_comunicação escrita no discurso técnico-científico;
_estilos e exigências normativas sectoriais, consistência e opções de notação;
_recursos avançados dos programas de processamento de texto;
_orto e tecnotipografia e problemáticas de prepress.
Esta quarta edição da acção é realizada em três blocos autónomos de 10 horas cada, e terá lugar em Lisboa e no Porto, em três fins-de-semana (um em cada mês), com início em Janeiro.
Preços (fraccionáveis):
até 30 de Novembro: 109,42 euros por bloco (130,55 + 98.85 x 2)
de 1 a 16 de Dezembro: 121,16 euros por bloco
de 17 de Dezembro a 15 de Janeiro: 131,85 euros por bloco
a partir de 16 de Janeiro: 143,94 euros por bloco
São concedidos descontos a mestrandos/as ou doutorandos/as, a preparar dissertação ou tese.
Ler mais sobre esta acção, no site do IFILP.
.