# ver o mundo de pernas para o ar
Graças aos mecanismos ópticos do nosso aparelho visual as imagens do mundo chegam à nossa retina invertidas, ou seja, de pernas para o ar.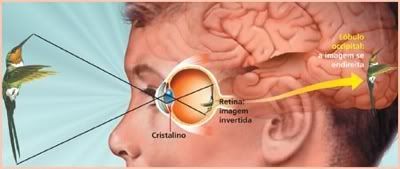 O cérebro converte-as para o posição correcta sem nenhum problema, porque essa lógica é mantida para tudo aquilo que vemos. Por isso, aquilo que consideramos ser a orientação normal do mundo é, assim, absolutamente relativa e determinada pelos hábitos visuais de uma vida.
O que aconteceria se invertêssemos esta orientação das imagens?
Nos últimos 100 anos, diversos investigadores, desde George Stratton (1896, 1897) investigaram esta questão. Para isso foram construídos óculos especiais que, através de um jogo de espelhos, invertem as imagens do mundo.
Óculos de inversão
Num estudo mais recente (Linden et al., 1999) pediram a voluntários para usar, diariamente, óculos deste tipo. Ao contrário do que seria de esperar, em apenas alguns dias, os indivíduos conseguiam fazer as suas actividades diárias com quase normalidade (incluindo ler, escrever e andar de bicicleta). A tarefa mais complicada foi a construção de objectos com peças 3D. Contudo, durante o tempo da experiência, os indivíduos tiveram sempre a consciência de que estavam num mundo de pernas para o ar. Análises neurológicas, realizadas durante a experiência, não revelam nenhuma alteração nos padrões da actividade neuronal do córtex visual. A adaptação parece ocorrer, maioritariamente, nas áreas motoras do cérebro.
Curiosamente, após tirarem os óculos, os participantes voltaram rapidamente ás rotinas visuais habituais.
Referências:
D.E.J., Linden, U. Kallenbach, A. Heineckeô, W. Singer, & R. Goebel (1999). The myth of upright vision. A psychophysical and functional imaging study of adaptation to inverting spectacles.
Perception
, 28(4)469-481
(PDF)
Stratton, G. (1896). Some preliminary experiments on vision without inversion of the retinal image.
Psychological Review
, 3, 611-617
Stratton, G. (1897). Upright vision and the retinal image.
Psychological Review
, 4, 182-187
Links:
Inverting Goggles Experiment
.