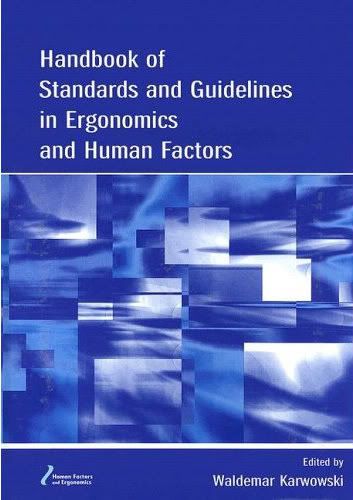 Karwowski, Waldemar (Editor), (2005). Handbook of Standards and Guidelines in Ergonomics and Human Factors. Lawrence Erlbaum Associates.
ISBN: 0805841296
Não podemos ignorar o importante contributo que as diversas Normas Internacionais, relacionadas com a Ergonomia/Factores Humanos, têm para a promoção da segurança e higiene no trabalho. Tais normas são elaboradas por comités, constituídos por diversos especialistas, que compilam informação importante e fornecem orientações preciosas para a concepção e avaliação de postos de trabalho, equipamentos, organização do trabalho, métodos e técnicas de concepção, planeamento de tarefas/actividades, sinalização, Intercação Homem-Máquina, entre muitos outros aspectos fundamentais para a garantia de um trabalho seguro e adequado ás capacidades e limitações Humanas, mas também, eficaz do ponto de vista económico.
Este livro oferece-nos boa revisão e bastante informação, sobre uma ampla selecção de normas e orientações relacionadas com a Ergonomia/Factores Humanos, abrangendo diversas temáticas e contextos, incluindo conteúdos importantes sobre segurança e saúde no trabalho.
O livro destina-se, como é óbvio, aos ergonomistas, técnicos de higiene e segurança no trabalho, estudantes e professores destas áreas, engenheiros, designers, arquitectos, fabricantes, gestores e legisladores.
O livro está dividido em 32 capítulos organizados em 9 secções:
*The Standardization Efforts in Human Factors and Ergonomics;
*Nature of HFE Standards and Guidelines;
*Engineering Anthropometry and Working Postures;
*Design and Evaluation of Manual Material Handling Task;
*Human-Computer Interaction;
*Management and Occupational Safety and Health;
*Safety and Legal Protection Standards;
*Military Human Factor Standards;
*Sources of Human Factors and Ergonomics Standards.