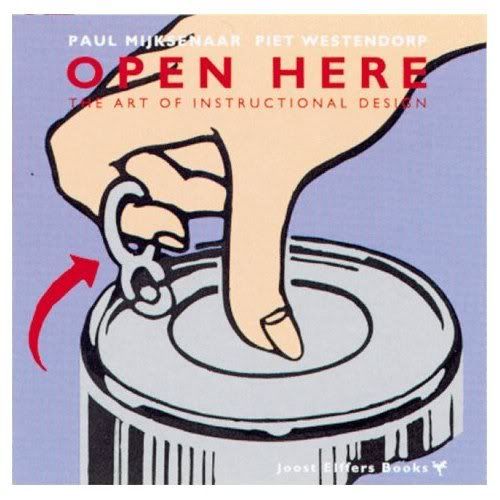 Mijksenaar, P. & Westendorp, P. (1999). Open Here: The Art of Instructional Design. Joost Elffers Books.
ISBN: 1556709625
A nossa dependência das instruções visuais é enorme!
Podemos não ter uma grande consciência desse facto mas, a verdade é que, grande parte das nossas actividades diárias depende da leitura visual que fazemos do mundo e das informações nele contidas. Precisamos de consultar livros, sinais, ícones, pictogramas, sinaléticas, mapas, interfaces de máquinas, manuais de instruções, ilustrações, entre muitos outros, para realizar as nossas actividades. Mas, infelizmente, não é raro encontrar maus exemplos: são máquinas que não sabemos usar, são espaços confusos com sinaléticas deficientes, são embalagens que não contêm informação legível e explícita, são avisos que não avisam… é um rol infindável de mau design!...
No livro "Open here" podemos reflectir sobre esta área do design – o design de informação- podemos encontrar maus exemplos (casos de má usabilidade) retirados do nosso quotidiano e, também, encontrar soluções que funcionam. Por isso, o livro pode funcionar como uma fonte de inspiração, para os criativos, ajudando a resolver os seus problemas de comunicação com os utilizadores.
Um dos autores deste livro, Paul Mijksenaar, é o autor dos pictogramas dos aeroportos Schiphol, na Holanda, New Ark Airport, em Nova Jersei e JFK em Nova Iorque. É professor de Informação Visual na Universidade de Tecnologia, em Delft, Holanda. O outro autor, Piet Westendorp, é investigador de comunicação (technical communication) nas Universidades de Tecnologia de Delft e Eindhoven, Holanda.