A força excessiva, exercida durante as tarefas de empurrar, puxar e manipular/transportar cargas, pode resultar em lesões.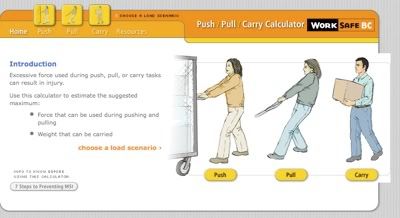 Para ajudar a determinar as forças máximas, sugeridas para cada tarefa, podem usar o calculador on-line -
"Push / Pull / Carry Calculator"
, disponibilizado pelo
WorkSafeBC Ergonomics
.
O calculador usa os dados disponíveis nas tabelas Snook:
Snook, S. H. and V. M. Ciriello. 1991. The design of manual handling tasks: Revised tables of maximum acceptable weights and forces.
Ergonomics
34 (9): 1197-1213.
.