A emoção é parte essencial da qualidade da nossa interacção com produtos/serviços. Por vezes, é graças a ela que tomamos as nossas decisões de consumo/uso dos produtos e fazemos as nossas avaliações sobre eles. Este factor é muito relevante porque, nos dias de hoje, a tecnologia já não é considerada como o principal factor de decisão e de distinção entre fabricantes/marcas. Por isso, não é de estranhar o grande investimento da Ergonomia e do Design nesta questão.
Tratando-se de um aspecto subtil e, de certa forma, pouco óbvio ou evidente, têm vindo a ser desenvolvidos diversos métodos e técnicas com o objectivo de facilitar a avaliação das emoções dos utilizadores.
O processo tradicional para fazer tal avaliação consiste na realização de questionários, normalmente usando escalas subjectivas de resposta, que levam as pessoas a fazer avaliações, de base verbal, sobre aspectos relacionados com as emoções associadas a um produto/serviço. Os dados obtidos podem, posteriormente, ser tratados de forma gráfica. Um exemplo é o
Emotional Mapping
, descrito por Daniel Formosa da Smart Design.
Diversos programas informáticos foram desenvolvidos, nos últimos anos, com este mesmo propósito. Bons exemplos, que resultaram da investigação realizada pelo professor Pieter Desmet, da Universidade Técnica de Delft, são o
PrEmo
(Product Emotion Measurement) e o
LEMtool
(Layered Emotion Measurement tool), comercializados pelo
SusaGroup
.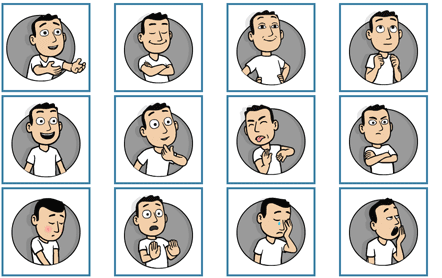 Figura 1 - ilustrações das emoções disponíveis no PrEmo.
O
PrEmo
recorre a ilustrações animadas, para representar diferentes emoções, em vez de se basear no uso de palavras, tal como acontece com os questionários. O que torna a avaliação bastante interactiva e muito divertida.
O
LEMtool
foi pensado para avaliar, especificamente, as emoções face a páginas Web.
Figura 2 - Ilustração das diferentes emoções (felicidade, desejo, fascínio, satisfação, tristeza, desgosto, aborrecimento e insatisfação), que os utilizadores podem escolher como estando associadas a diferentes aspectos da interface (atracção, estética, usabilidade), do LEMtool.
Ler mais:
# The Product Emotion Measurement Instrument (PrEmo) by Pieter Desmet, Delft University of Technology (
PDF
).
# Measuring Emotion by Pieter Desmet (
PDF
).
# Affective experiences in the Home: measuring emotion by Claire Dormann (
PDF
)
.