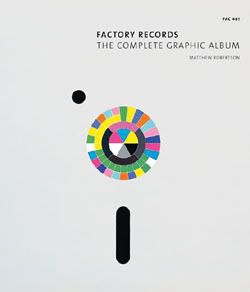 (2006). Factory Records.
The Complete Graphic Album
. Chronicle Books.
ISBN 0811856429



P
or recomendação do nosso leitor Marvin the Paranoid Android a sugestão de leitura, desta semana, é o livro "

Factory Records.

The Complete Graphic Álbum

" de Matthew Robertson.

Infelizmente, ainda só consegui ler o pouco que está acessível no

Google Books
, mas pareceu-me muito interessante
...

da editora…
"A creative juggernaut of the post-punk era, Factory Records was the catalyst behind the U.K. music explosion of the late '70s through the '90s with groups like Joy Division (soon to be the subject of an Anton Corbijn movie), New Order, and Happy Mondays leading the New Wave. At Factory, musicians and designers commingled creatively, with innovators such as Peter Saville, Den Kelly, Mark Farrow, 8VO, and Barbara Kruger elevating album covers to a new art form. The label broke further ground when it opened its own disco, the legendary Hacienda.
Factory Records
is the ultimate and only collection of Factory's complete graphic output, including every single piece it produced: extremely rare record sleeves, club flyers, and posters all gathered together for the first time. A must for collectors and enthusiasts, Matthew Robertson's meticulous compilation of underground ephemera is poised to introduce a new generation of music and design fans to the creative genius of Factory"…


Boas leituras.