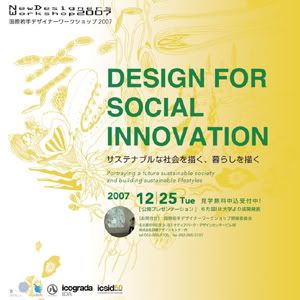 > Design for Social Innovation : Destination 2025
No International New Designers Workshop 2007, jovens designers irão tentar responder à questão: How can we create an ecologically sustainable society by conserving the global environment?

Os participantes do workshop começarão os trabalhos visitando a exposição "Eco-Products 2007", depois, seguirão para Nagoya, Chubu, Japão, onde realizarão um passeio para observar as soluções tecnológicas aplicadas, na região, para promover a sustentabilidade da sua indústria. Só depois desta pesquisa de campo se irão juntar à 2ª "International Conference of Design for Sustainability Destination 2007-2025".
O workshop está aberto à participação de estudantes de arquitectura, designers industriais, designers de comunicação e multimedia, entre outros.
O prazo para as inscrições termina a 24 de Novembro de 2007.
> UPA China User Friendly 2007


O evento
UPA China / User Friendly 2007
irá juntar, durante 3 dias, em Pequim, China, cerca de 700 participantes ligados à usabilidade e ao design de sistemas de informação. O tema deste encontro é:

Connecting User Experience Communities
.
Data do evento:
23 e 25 de Novembro de 2007
.

Local: Jiuhua SPA & Resort, Beijing, China.

Ver programa
AQUI.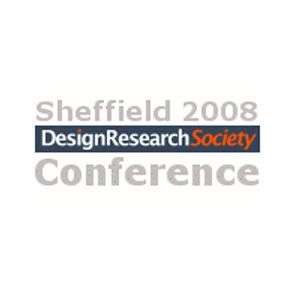 > 2008 Design Research Society International Conference


A conferência da Design Research Society - DRS Shefield 2008 - é uma excelente ocasião para conhecer e discutir as mais recentes pesquisas em design, assim como partilhar ideias e planear o futuro.

O tema desta edição da conferência é "Undisciplined! - Rigour in emerging design disciplines and professions."

Local e data do evento: Sheffield, Inglaterra, 16-19 de Julho de 2008.
O prazo para submissão de resumos é 1 de Dezembro de 2007.
> Designism : Design for Social Change
O Art Directors Club (ADC) realiza, pela segunda vez, um evento anual de activismo social ligado ao design. O evento deste ano -
Designism 2.0: An Event in 3 Parts. SEE: TALK: ACT
– acontecerá no próximo dia
13 de Dezembro de 2007.
O ADC promete uma tarde cheia de apresentações inspiradoras, com a participação de Milton Glaser, Steven Heller, Elizabeth Resnick, Ji Lee, Tony Hendra
,
entre outros, conversas polémicas e muita vontade de acção.


Em simultâneo, os participantes poderão visitar a exposição dos posters seleccionados para o Graphic Imperative: International Posters for Peace, Social Justice, and the Environment 1965-2005.


Local do evento: The ADC Gallery, 106 West 29th Street (between 6th and 7th Aves). New York City. USA.
> Volvo SportsDesign Award 2008 : EcoDesign
"There's no business to be done on a dead planet!".
Pelo quarto ano consecutivo, a Volvo, em cooperação com a "International Sports Goods Trade Fair" de Munique (27-30 de Janeiro de 2008), promove o VOLVO Sports Design Award. O tema é EcoDesign: Form Follows Sustainability.
As categorias a concurso são: ski equipment, board equipment, outdoor equipment, apparel, wheelers, accessories, concepts, and special category material technology / radical solutions. A categoria de conceitos é exclusiva para jovens designers.
O período de submissão termina a 21 de Dezembro de 2007.
> Hanging the Change : Design Visions, Proposals
A conferência "Changing the Change" tem por objectivo geral contribuir para modificar a direcção actual do design, empurrando-o no sentido de um futuro sustentável. Especificamente, a conferência ambiciona destacar as mais recentes pesquisas do design, ao nível da visão, propostas e ferramentas, que possam ser enquadradas num processo de aprendizagem social global.
A conferência, organizada pelo Co-ordination of Italian Design Research Doctorates, em parceria com o Conference of Italian Design Faculty Deans and Programme Heads, ocorrerá em Torino, entre 10 e 12 de Julho de 2008.
O período de submissão de resumos termina a 21 de Janeiro de 2008.