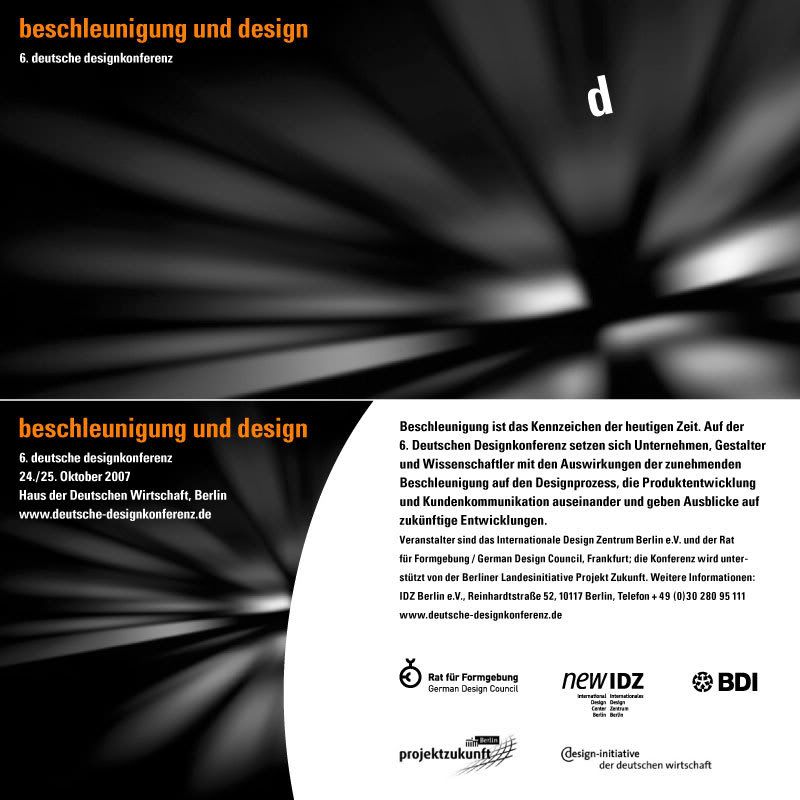 Acceleration and Design
6th German Design Conference from October 24th to 25th
Haus der Deutschen Wirtschaft, Berlin
Acceleration is the characteristic of today's world. Processes which formally required a great deal of time can now be conducted with the click of a mouse, all kind of information is available in seconds, and communication is bound neither to place nor to time. New products and services are reaching the market in ever shorter intervals, promising better services and more functions – only to soon be replaced by even newer developments.
At the 6th German Design Conference from October 24th to 25th businesses, designers, and scientists will look into the effects of acceleration and will present possible outlooks on future developments.
The 6th German Design Conference is presented by the International Design Center Berlin e.V. and the Rat für Formgebung/German Design Council, Frankfurt. It takes place under the umbrella of the regional initiative Project Future and within the context of the design initiative of the German Industry. It is organized by the IDZ DesignPartner Berlin GmbH.
Mais detalhes no site da deutsche-designkonferenz