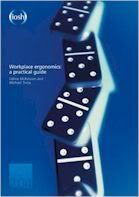 # Sugestão de leitura da semana:
McKeown, C. & Twiss, M. (2001)
Workplace ergonomics
: a practical guide. IOSH Services Limited. ISBN 0 9013 5735 9
>looks at the basics of workplace design and layout
>covers machine and tool use
>examines how job structure plays a major part in determining whether individuals are comfortable and healthy at work
>introduces anthropometry in clear, straightforward terms
>offers pragmatic solutions to typical display screen work problems
>provides practical guidance on the management of manual handling
>explains the likely causes and consequences of upper limb disorders
>has useful summary sections providing key points at a glance
>uses easy-to-follow examples from a broad spectrum of workplace situations.
.