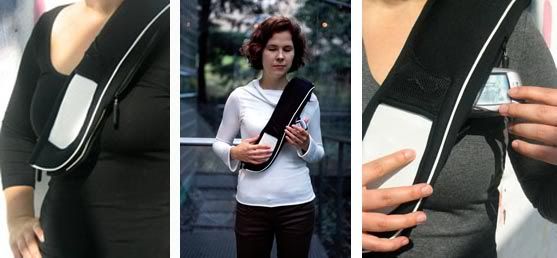 Os invisuais já podem contar com uma nova forma de usar o telemóvel -
Mukana
.
A solução resultou da conjugação de esforços de um grupo de trabalho multidisciplinar: Paula Löppönen
(designer industrial especializada em usabilidade e ergonomia)
, Tikka Löppönen
(mestre em psicologia)
, Päivi Haaksiluoto
(designer de moda)
e Tatu Marttila
(designer industrial) e
com o apoio do Finnish Federation of the Visually Impaired, da University of Art and Design Helsinki, e doTechnical Research Center of Finland.
Este novo conceito consiste num telemóvel que se pode "vestir" e que incorpora um sistema GPS. Basicamente, consiste numa faixa de neoprene com um bolso para o telemóvel e com um auricular que funciona por bluetooth. Os utilizadores podem interagir com o Mukana tanto oralmente, porque possui um software de reconhecimento de voz, como através de um teclado Braille incorporado de série, recebendo as informações através do auricular. O teclado está, adequadamente, posicionado na frente com um ângulo que permite um correcto posicionamento da mão do ponto de vista ergonómico. Os materiais usados são muito expressivos, quanto à textura, o que os torna muito ricos do ponto de vista sensorial. O sistema pode ser usado para, coisas tão diversas como fazer uma chamada, obter uma localização precisa da nossa posição na cidade, decidir qual o melhor caminho a seguir ou saber a que horas chega o próximo autocarro, etc.
É uma solução interessante, na ligação entre o vestuário e a tecnologia, ao serviços daqueles que possuem necessidades especiais e muito especial, por ter sido fruto de uma relação multidisciplinar.
Deveríamos incentivar muito este tipo de postura projectual…