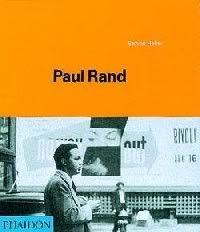 Heller, Steven (2000). Paul Rand. Phaidon Press; New Ed edition.
ISBN: 0714839949
Paul Rand (1914-96) foi um dos pioneiros do design gráfico Norte-americano. Rand adoptou uma filosofia de design que ele designou por uma "abordagem de resolução de problemas". Foi muito influenciado pelas ideias dos movimentos avant-garde europeus, como o cubismo, construtivismo, Bauhaus e De Stijl, fazendo deles uma síntese para dar corpo à sua própria linguagem.
Ao longo da sua carreira, de quase 7 décadas, foi director artístico, professor, escritor de consultor de design de empresas como a IBM, ABC e a UPS. A sua influência foi tremenda nas áreas do design gráfico e da comunicação e deixou uma importante marca na história do design.
Neste livro da autoria de Steven Heller, director de arte do New York Times, podemos encontrar, ao longo de 255 páginas e 452 ilustrações, uma importante e meticulosa retrospectiva do seu trabalho e sentir a força do seu design. O prefácio é da autoria de Armin Hofmann e a introdução de George Lois, que escreve:
"The constant concern of the scholarly and humanistic Paul Rand was to create images that snared people's eyes, penetrated their minds, warmed their hearts and made them act."
Um livro que é uma fonte de inspiração como poucas… belíssimo!!!