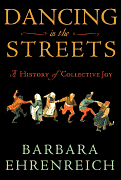 Ehrenreich, Barbara (2007).
Dancing in the Streets
: A History of Collective Joy.
Metropolitan Books.
ISBN-10:
0805057234
ISBN-13: 978-0805057232
No dia de Entrudo, um Livro que também fala sobre o Carnaval...

A nossa civilização é rica em rituais e celebrações. Alguns rituais são contidos e dolorosos, como um funeral ou uma procissão religiosa, outros são festivos e elaborados, como o Carnaval. Porém, tais celebrações públicas exuberantes têm sido uma questão problemática ao longo da nossa história.
No livro, Dancing in the Streets, Ehrenreich aborda este desejo humano de celebrar em comunidade, de fazer grandes festanças populares, de dançar livremente em grupo, de entrar nessa espécie de folia, quase orgíaca. A autora, historiadora conceituada, apresenta explicações históricas, antropológicas, sociais e biológicas para este comportamento, que atravessou a nossa história, e procura entender o seu significado para os participantes.

Algumas questões interessantes são colocadas: Até que ponto estes rituais ajudam a preservar a autonomia e dignidade dos indivíduos? Até que ponto essas tradições e o nosso comportamento associado são manipulados pelo poder instituído? Qual é o poder que estes rituais possuem? São formas de libertar energia e que energia é essa? Entre outras…

A igreja, o poder político, os colonizadores procuraram reprimir, destruir, modificar tais comportamentos espontâneos, porque os consideravam perigosamente subversivos e ameaçadores para a sua autoridade. Isso provocou a depressão das sociedade e aumentou a melancolia de alguns povos. Não obstante, apesar de marginalizados, tais rituais sobreviveram até aos nossos dias. Podemos encontrar as suas manifestações no desporto de massas, nos movimentos do rock, nas paradas/desfiles e no Carnaval, entre outros.
Original, divertido e profundamente optimista Dancing in the Streets conclui que, nós somos naturalmente seres sociais, embora limitados por uma sociedade fechada e individualista, somos impelidos para compartilhar nossa alegria. Dessa forma, seremos, quem sabe, compelidos a criar um futuro mais pacífico...
Índice de conteúdos (em inglês):



Introduction: Invitation to the Dance 1
The Archaic Roots of Ecstasy 21
Civilization and Backlash 43
Jesus and Dionysus 57
From the Churches to the Streets: The Creation of Carnival 77
Killing Carnival: Reformation and Repression 97
A Note on Puritanism and Military Reform 119
An Epidemic of Melancholy 129
Guns Against Drums: Imperialism Encounters Ecstasy 155
Fascist Spectacles 181
The Rock Rebellion 207
Carnivalizing Sports 225
Conclusion: The Possibility of Revival 247
Notes 263
Bibliography 283
Acknowledgments 303
Index 305