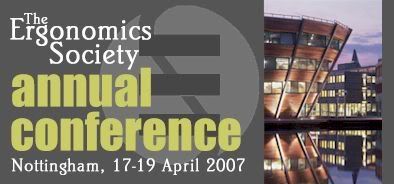 THE ERGONOMICS SOCIETY ANNUAL CONFERENCE 2007
A próxima conferência, da Egonomics Society, decorrerá na Universidade de Nottingham, Reino Unido, entre 17 e 19 de Abril de 2007.
Os temas da conferência são:
Ergonomics at the heart of systems engineering;
Urban and personal security;
Holistic and universal design;
Complex systems;
Office ergonomics
Patient safety and medical ergonomics.
Links:
Programa provisório
Agenda/horário
Ficha de inscrição
Para mais informação contactar:
Sue Hull
Conference & Marketing Officer
email s.hull@ergonomics.org.uk
Telf: 0121 288 6715 (direct line) or 01509 234904 (office).