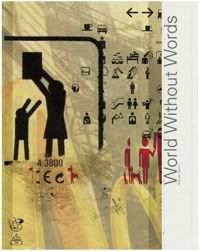 # Sugestão de leitura da semana:
Evamy, Michael (2003),
World without Words
. Laurence King Publishing.
ISBN-10: 1856693198
"Product Description

Leading his readers on a voyage through the visual shorthand of modern life, the author argues that we are relying less on words for navigating the world than on images and graphic devices. This sourcebook shows the attempts of designers to condense words and data down to their simplest equivalents. It illustrates the familiar, the peculiar and the confusing visual language that we are asked to interpret (symbols, graphs and charts, maps) mixed up with the more graphic examples of data storage and identification that are read not by humans but by machines (barcodes, magnetic strips, holograms). Featuring airport signs, road markings, pictograms, maps, diagrams, packaging, logos and symbols, this compendium of visuals shows not only the norms of wordless graphic communication but also how these vary around the world when interpreted by local individuals for different cultures.


About the Author

Michael Evamy is a journalist, copywriter and editor in the field of design. Former Assistant Editor of Design magazine, he contributes to many international publications and national newspapers. He recently developed a series of innovative graphic guides to London."
.