Sabiam que, quanto mais inteligente é a pessoa mais rápido a informação circula no cérebro?
Essa foi a conclusão a que chegou um estudo, realizado na
UCLA
, que provou a relação entre a velocidade do funcionamento cerebral e a inteligência. Neste caso, podemos dizer que aquela velha máxima que diz: "pensa rápido", é literalmente verdade...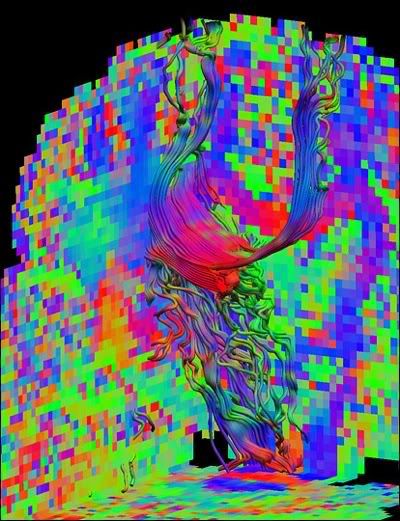 Esta imagem colorida dá, aos cientistas, uma ideia da velocidade do cérebro.
Os investigadores avaliaram os cérebros e a inteligência de 92 participantes, usando uma tecnologia de imagiologia médica designada de
DTI
(Diffusion Tensor Imaging), que é uma variante da ressonância magnética. O DTI avalia a integridade da matéria branca do cérebro, que é composta por células que transportam os impulsos nervosos de um lado para outro. Quanto maior for essa integridade, maior é a velocidade a que viajam os implusos. Para além disso, produz umas imagens do cérebro muito interessantes.
O estudo conclui também que a velocidade do cérebro é hereditária, estando sujeita a diversos factores genéticos.
Ler mais no
Science Daily
.
Referência:
Chiang. M-C., Barysheva, M., Shattuck, D.W., Lee, A.D., Madsen, S.K., Avedissian, C., Klunder, A.D., Toga, A.W., McMahon, K.L., Zubicaray, G.I., Wright, M.J., Srivastava, A., Balov, N. and Thompson, P.M. (2009).
Genetics of Brain Fiber Architecture and Intellectual Performance
.
Journal of Neuroscience
, 29 (7): 2212 DOI:
10.1523/JNEUROSCI.4184-08.2009
.