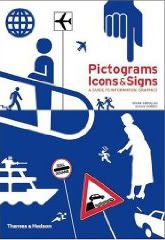 # Sugestão de leitura da semana:
Abdullah, R. & Hübner, R.(2006).
Pictograms, Icons & Signs: A Guide to Information Graphics
. Thames & Hudson. ISBN: 0500286353
"

Product Description
An indispensable sourcebook for designers everywhere, a keystone for non-verbal communication. Outlines the history of pictograms and icons and how they have been applied in commercial and creative fields over the past century. Included top tips and background information from successful pictogram designers, as well as detailed discussion of icons, the âsilent servantsâ of online communities.


About the Author

Rayan Abdullah is Professor of Design and Typography at the Academy of Visual Arts in Leipzig. Between 1993 and 2000 he was Senior Designer at MetaDesign, Germany's largest design and branding company, where he was responsible for major projects for the Berlin Transport Authority, Volkswagen, Bugatti and the German Government (for whom he re-vamped the German Eagle, symbol of the Federal Government). Roger Hubner is professor of semiotics and design at the Mediadesign University in Berlin. He is the co-author, with Rayan Abdullah, of Corporate Design."
.