"The success of a (comunication) design depends on the coordination of the two sets of constraints: information with the appropriate means for action and the means for action with the appropriate information".
Zwaga, H. J. G.; Boersema, T. & Hoonhout, H.C. M. editors. (1999),
Visual Information for Everyday Use: Design and Research Perspectives
. London: Taylor & Francis.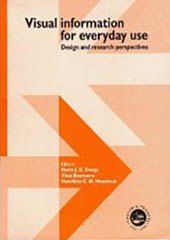 O conceito de informação está relacionado com o significado. Se organizarmos um conteúdo para que possa ser usado, pelas pessoas, para atingirem os seus objectivos, isso é informação. A organização desses dados irá evocar um significado para o utilizador. Será o significado, ou a falta dele, que determinará o que é útil e o que é apenas ruído.
A transmissão da informação, ao receptor, é a comunicação. Como não usamos a telepatia (
alguns dizem que usam
) temos que usar suportes que permitam a passagem da informação de mente para mente. É aqui que entra o designer de comunicação…
o carteiro
(como lhe chamou Corto)
. O problema é conceber de forma a que a interacção, homem-design, seja óptima...
A área do design de informação está em franco crescimento. Este livro discute a metodologia e a investigação realizada sobre o design de comunicação para uso público. Nele podemos encontrar uma panorâmica sobre o estado da arte de diversas áreas do design de informação, acompanhadas de diversos estudos de caso. O livro tem o contributo de diversos especialistas mundiais, sobre esta área interdisciplinar, do design de informação. Entre eles encontram-se ergonomistas, designers, psicólogos, entre outros. Os seus contributos reflectem a riqueza, a diversidade de preocupações e de abordagens desta área. São focados tópicos como formulários, tabelas, gráficos, mapas, instruções, pictogramas e avisos. Se querem ser
carteiros/designers
eficazes, então comecem por ler este livro!