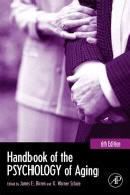 Birren, J. E.; Schaie, K. W.; Abeles, R. P.; Gatz, M. & Salthouse, T. A. (2006). Handbook of the Psychology of Aging. Academic Press. ISBN 0121012646.
A sugestão de leitura desta semana vai para o livro "Handbook of the Psychology of Aging" que nos oferece uma visão global dos mais recentes desenvolvimentos, da psicologia, no que se refere ao envelhecimento humano.
Os 22 capítulos deste livro focam aspectos como: Conceitos, teorias, metodologias, influencias sociais e biológicas no envelhecimento, processos comportamentais no envelhecimento, contributos da neurociêcia cognitiva, resolução de problemas, tomada de decisão, memória, entre outros.
Este tipo de conhecimentos interessa muito aos designers e ergonomistas que ambicionam desenvolver projectos de design inclusivo e que, por isso, necessitam de possuir um conhecimento profundo sobre as capacidades e limitações humanas.
Mais informação sobre este livro no GoogleBooks.