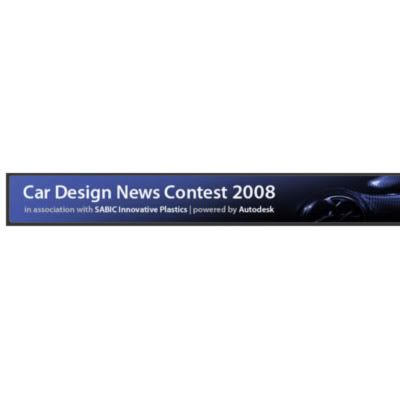 > Car Design 2008
O "Car Design News" anuncia a primeira edição de um concurso, inteiramente digital, de design automóvel – o "Car Design News Context 2008". Este concurso, onde todos os modelos serão virtuais, contará com um júri constituído por gente de renome na indústria automóvel. Existem duas categorias a concurso – a dos designers profissionais e a dos estudantes de design. O tema centra-se em como será a vida, de 3 pessoas nascidas no ano 2000, no ano de 2028.
O prazo de submissão de propostas termina a 26 de Março 2008.
> Beam Goes Mobile
A Beam e a RIBA estão a promover um concurso internacional de design, em duas etapas, para a concepção de dispositivos móveis, altamente interactivos, que estimulem a criatividade, a aprendizagem e a participação.
Para mais informações consultar o briefing do concurso AQUI (PDF).
Submissões até 28 de Março de 2008.
> Interior Motives Design Awards 2008
Já está a decorrer o período de submissões à 6ª edição do concurso " Interior Motives Design", patrocinado pela revista Interior Motives. O objectivo deste concurso é premiar e divulgar o trabalho inovador, realizado por estudantes das mais diversas áreas, à comunidade do design automóvel. O tema deste concurso é "Design for life".
As submissões estão abertas até 30 de Abril de 2008.
> IFLA International Student Design Competition
O concurso IFLA procura estimular a discussão sobre que contributos podem dar a arquitectura, o urbanismo e o design, para um melhor ambiente.
As submissões estão abertas até 1 de Maio de 2008.
> TAP Industrial Design Contest
A 3ª edição do concurso internacional de design industrial "TAP" é promovida pela fábrica Webert, com o apoio da ADI. O objectivo é a concepção de uma torneira misturadora, para casa de banho e cozinha.
As submissões decorrem até 15 de Maio de 2008.
> 2008 NSF/AAAS Visualization Challenge
O desafio está lançado: Stop, Look, and Learn. Este é o mote para o concurso internacional de ilustração científica "Science & Engineering Visualization Challenge", promovido pela National Science Foundation, pela revista Science e que será publicado pela American Association for the Advancement of Science. As categorias em concurso incluem fotografia, desenho, ilustrações, gráficos, infografia e meios interactivos, entre outros.
As submissões decorrem até 31 de Maio de 2008.