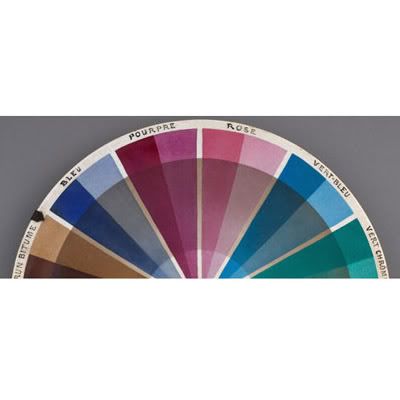 > Multiple Choice: From Sample to Product
A exposição "Multiple Choice: From Sample to Product " está patente no
Copper Hewitt National Design Museum
até ao próximo dia 6 de Abril de 2008.
"This exhibition will examine sample books and other sampling formats as tools for marketing or recording designs and techniques in a wide variety of media. In use since the eighteenth century, sampling formats provide detailed views into the design tastes of their respective eras. Drawn from the Museum's collection, exhibition objects will include sample books of wallcoverings; woven and printed textiles; ribbons, lace and embroidery; sample plates; and drawings and prints showing design alternatives. The exhibition is organized by Lucy Commoner with Matilda McQuaid and Kimberly Randall. Research assistance provided by Phyllis Dillon."
>Building China. Five Projects, Five Stories
A exposição "Building China Five Projects, Five Stories" está patente no
Center for Architecture
até ao próximo dia 12 de Abril de 2008.
"The People's Republic of China is undergoing a phenomenal transformation. Since 1978, with the adoption of an open-door policy, the country has developed a thriving market economy, out of which existing and new cities are experiencing rapid and aggressive growth. A new generation of architects is active in the vanguard of this construction, developing their own architectural identity.Building China: Five Projects, Five Stories features five unique architectural case studies that were conceived, designed, and recently completed by Chinese architects. Located throughout China, many of these buildings, being exhibited in the U.S. for the first time, offer the public insight into China's ever changing landscape. Through the stories of these five projects, themes emerge: Production of Contemporary Culture, Reinventing Urban Fabric, Making the Private Public, Reinterpreting Traditional Design Philosophy, and Hybrid Development Models. These case studies of contemporary architecture introduce critical voices from the People's Republic of China, challenging the West's stereotypical interpretation of China as a homogeneous society."
>Fashion for Sustainability
A exposição "Fashion for Sustainability" estará patente, na Garanti Gallery, até 26 de Abril de 2008.
"
Garanti Gallery
is proud to announce the exhibition "Fashion for Sustainability" which will be held between 18th of March and 26th of April 2008.
Kate Fletcher
, the curator of the exhibition, will be giving a lecture* on 19th of March 2008 Wednesday, 17:30hrs at Istanbul Technical University Taşkışla hall number 109.
The exhibition explores fashion as a positive force for change towards sustainability. It combines the products, processes and voices of global brands, independent designers, pressure groups and garment workers, presenting them as a new type of fashion activism. "Fashion for Sustainability" is part exhibition, part open learning environment and gives a glimpse of a new agenda for fashion based on change. This new agenda aims to counteract environmental and ethical inaction and overhaul a lack of awareness and blind consumption that typifies many people's experience of fashion today. Structured around six key sustainability themes and an evolving programme of lectures and workshops from international experts, this exhibition offers an opportunity to weave together a new direction, shared understanding and community of action for sustainability in fashion".
>Design and the Elastic Mind
A exposição
está patente no Moma até ao próximo dia12 de Maio de 2008.
Link para a exposição on-line:
"Like the major exhibition it accompanies, Design and the Elastic Mind focuses on the ability of designers to grasp momentous advances in technology, science and human behavior and convert those changes into objects and systems that people can understand and use. Included projects range from nanodevices to vehicles, appliances to interfaces and building facades, pragmatic solutions for everyday use to provocative ideas meant to influence our future choices. Essays by design experts and a nanophysicist explore the dynamic relationship between design and science."
>Posters and Graphic Design by Ott and Stein
A Exposição
"Posters and Graphic Design by Ott and Stein"
está patente no
Staatliche Museen zu Berlin
, até 15 de Junho de 2008.
"The exhibition offers an insight into the diversity of graphic works which Nicolaus Ott and Bernard Stein produced during thirty works of their working together. The exhibits are characterised by a clear-cut articulation of text and image within a balanced structure of form. Script and picture are carriers of information and forms carrying meaning at the same time. With their posters and book designs, Ott and Stein provided new impulses in graphic design, earning themselves a reputation on an international level as well. They lent a new face to numerous institutions, including the Staatliche Museen zu Berlin (National Museums in Berlin). The exhibition is accompanied by a catalogue listing the graphic designer's complete poster oeuvre as well as the holdings of their work at the Art Library."
>Take Away

A exposição
"Take Away"
está patente na galeria "the Lighthouse" até 8 de Junho de 2008.
"From the tiffin box to the lunch box, army canteen to sports bottle, stacking cup to coffee machine cup, Take Away looks at the culture of takeaway food and the objects associated with eating on the move.
See tableware, cutlery, packaging and furniture, which have impacted our modern eating habits and the design of objects around us. This is the only opportunity to see this amazing exhibition from the Museum of Design, Zurich"