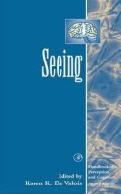 De Valois, Karen (2000).

Seeing. Handbook of Perception and Cognition.
Elsevier Science & Technology. ISBN: 0124437605
Ver é um processo muito mais complexo do que aparenta. Para muitos designers, envolvidos em projectos de investigação, saber mais sobre a visão humana é essencial. Este livro oferece-nos uma excelente revisão da investigação e da teoria produzida sobre a visão. Entre os tópicos abrangidos encontramos a cor, a visão espacial, a visão binocular, a visão do movimento, a formação das imagens, a atenção visual, entre muitos outros temas de interesse.
Mais detalhes, sobre este livro, no Google.Books.