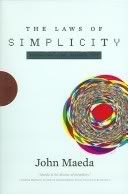 # Sugestão de leitura da semana:
Maeda, John (2006).
The Laws of Simplicity
. The MIT Press.
ISBN-10: 0262134721 | ISBN-13: 978-0262134729
A ideia de que a simplicidade equivale a sanidade é cada vez mais consensual. Os utilizadores actuais, mais informados e cada vez mais exigentes, requerem que os produtos sejam simples. Porém, paradoxalmente, os mesmos consumidores exigem que, os mesmo produtos simples, sejam cada vez mais completos em funções sofisticadas... Neste livro, Maeda, designer gráfico e professor no MIT, apresenta-nos 10 leis para manter o equilíbrio entre a simplicidade e a complexidade.

Ler as 10 leis da simplicidade, propostas por Maeda, no seu blog.
.