Sternberg, R. J.; Preiss, D. D. & Williams, W. M (Eds), (2005). Intelligence and Technology: The Impact of Tools on the Nature and Development. The Educational Psychology Series. Lawrence Erlbaum Associates.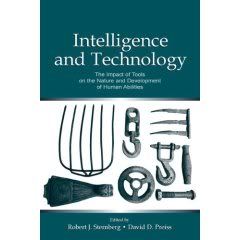 Que impacto tem a tecnologia nas capacidades humanas?
Qual o impacto cognitivo de tecnologias complexas?
A tecnologia aumenta ou limita o funcionamento intelectual humano?
Podemos conceber tecnologias que fomentem o desenvolvimento intelectual humano?
De que forma a tecnologia medeia o impacto das variáveis culturais no funcionamento intelectual humano?
Este livro é uma óptima sugestão de leitura, para aqueles que se interessam por questões como as anteriores.
Esta é uma análise multidisciplinar por excelência e engloba temáticas tão diversas como as questões históricas, sócio-culturais, cognitivas, educacionais, industriais, do design e ergonómicas.
Este livro divide-se em quatro grandes partes, sendo que a parte I do livro foca a história das tecnologias cognitivas e a sua relação com a cultura, a parte II aborda a forma como as tecnologias educacionais afectam a estrutura do pensamento dos estudantes, a parte III centra-se na aplicação da tecnologia ao mundo do trabalho e, por último, a parte IV analisa o interface entre a inteligência e a tecnologia.
Muito interessante e inovador... existem poquíssimos trabalhos realizados nesta área.