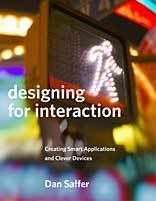 # Sugestão de leitura da semana:
Saffer, Dan (2006).
Designing for interaction. Creating Smart Applicationd and Clever Devices
. New Riders.ISBN-13: 9780321432063
Dan Saffer
dá-nos a conhecer, neste seu livro, parte da sua experiência como designer de interacção. O livro possue, para além de conhecimentos básicos sobre interacção e usabilidade, algumas sugestões e bons/maus exemplos, estudos de caso e entrevistas com designers experimentados.
"Other design disciplines use raw materials. Communication designers use basic visual elements such as the line. Industrial designers work with simple 3D shapes such as the cube, the sphere, and the cylinder. For interaction designers, who create products and services that can be digital (software) or analog (a karaoke machine) or both (a mobile phone), the design elements are more conceptual. And yet they offer a powerful set of components for interaction designers to bring to bear on their projects."
Para ler mais do livro podem consultar o site
www.designingforinteraction.com
.
Um excerto do livro pode ser lido em
UXmatters
.
E para saber mais sobre Dan Saffer visitem o seu site pessoal -
www.odannyboy.com
.