# sabiam que há um fato que vos pode tornar velhos num ápice?
Não, não é um fato mágico nem de ficção científica e os efeitos são totalmente revertíveis!
Estamos a falar de um equipamento usado em pesquisas relacionadas, sobretudo, com a ergonomia/design de produtos destinados a utilizadores idosos.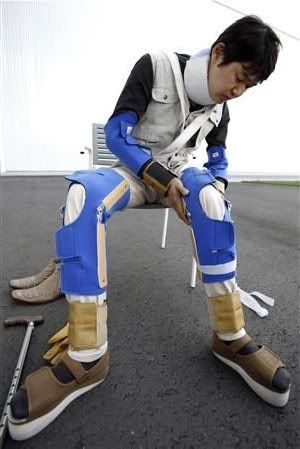 O "aging suit" (fato da terceira idade) é um fato que faz sentir, quem o veste, como se fosse uma pessoa idosa.
Há um ditado que diz, "não é o hábito que faz o monge" que, neste caso não se aplica. O fato inclui, entre diversos componentes possíveis,
sapatos especiais que desequilibram os utilizadores, óculos que distorcem as cores e replicam os efeitos de cataratas e outras deficiências visuais, luvas que reduzem o tacto e limitam a mobilidade dos dedos e limitadores do movimento
(joelhos, cotovelos, pescoço, etc.), entre outros.
Para que serve esse fato?
Em alguns casos pode não ser benéfico, aconselhável, ou possível ter potenciais utilizadores idosos a participar nos projectos de investigação, ou, de desenvolvimento de produtos. Os motivos podem ser diversos e estão relacionados, sobretudo, com a segurança, bem-estar e questões éticas. A alternativa poderá ser, nestes casos, transformar os designers, ergonomistas, engenheiros, ou, outros técnicos em idosos. Dessa forma, todos os envolvidos na concepção podem experimentar o uso dos seus produtos, tal como será feito pelos idosos. O objectivo será
facilitar a usabilidade e acessibilidade dos mesmos
.
O fato tem sido usado em diversos produtos e para os mais diversos fins.
Aqui ficam alguns "links" para saber um pouco mais sobre este equipamento.
'Aging suit' helps develop cars for older drivers.
Ford Drives a Mile In an Older Person's Suit
Instant Aging with a Wearable Time Machine
"Mobilistrictor"
The suit that makes you feel old
.