Neste mês de Setembro, em que se completam 5 anos após o atentado terrorista que abalou Nova Iorque, a cidade que nunca dorme é falada até à exaustão. Um dos símbolos mais divulgados, relacionados com a cidade, é o famoso logo "
I Love New York
" com o coração vermelho a substituir a palavra love.
Quem não conhece?
Mas, talvez haja quem não conheça o seu designer –
Milton Glaser
. Por isso, aproveito a oportunidade para apresentar um pouco da biografia e obra deste grande designer. Milton Glaser, que nasceu a 26 de Junho de 1929, é um reconhecido designer gráfico, dos maiores do mundo.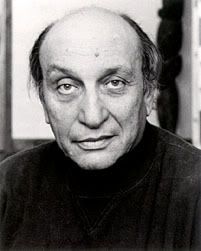 Entre os seus trabalhos mais conhecidos estão o poster de Bob Dylan, o logo "I Love New York e o logo
Dc Comics
, usado entre 1977 e 2005, entre muitos, muitos outros.
Glaser frequentou o Liceu de Musica e Arte de Nova York, licenciou-se na Cooper Union em 1951 e mais tarde na Academy of Fine Arts de Bolonha. Em 1954 foi um dos fundadores do Push Pin Studios. Também foi co-fundador do New York Magazine, em 1968. Em 1974, fundou o seu próprio atelier, Milton Glaser, Inc.
O seu trabalho, que se caracteriza pela simplicidade e originalidade, teve grande impacto no design e ilustração modernos, tendo ganho diversos prémios. Em 1979, foi nomeado membro honorário da Royal Society of Arts e o seu trabalho foi incluído em museus como o Museum of Modern Art, o Victoria and Albert Museum, o Israel Museum e o Museu de l' Affiche de Paris e o Centre Georges Pompidou em Paris. Glaser também foi professor na School of Visual Arts a na Cooper Union em Nova York.
Vale a pena perder um bocadinho de tempo a ler o texto "Ten Things I Have Learned" , retirado da conferência AIGA de 2001, em Londres.
As 10 coisas, que Glaser diz que aprendeu, são: 1) You can only work for people that you like. 2) If you have a choice never have a job. 3) Some people are toxic avoid them. 4) Professionalism is not enough or the good is the enemy of the great. 5) Less is not necessarily more. 6) Style is not to be trusted. 7) How you live changes your brain. 8) Doubt is better than certainty. 9) On aging. 10) Tell the truth.