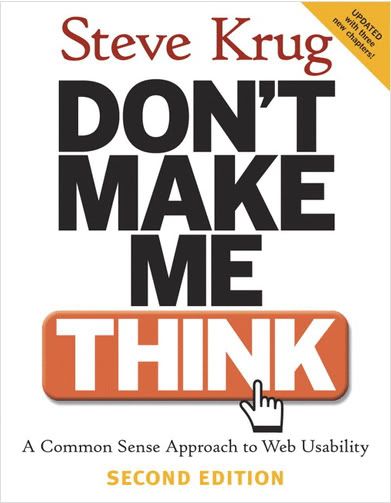 Krug, Steve (2005). Don't Make Me Think: A Common Sense Approach to Web Usability.
New Riders Press; 2 edition.


ISBN-10:

0321344758;

ISBN-13:

978-0321344755
Simplificar, parece ser a palavra-chave para o Web designer. Certamente, também o é para muitas outras áreas do design! Contudo, tornar simples aquilo que, por vezes, é muito complexo, não é tarefa simples. Esse processo pode tornar-se, facilmente, fastidioso e conduzir à desmotivação dos envolvidos. Por isso, é essencial encontrar estratégias que nos auxiliem a manter o humor e o espírito positivo durante a execução de tarefas tão complexas. Por isso, recomendo a leitura deste livro de Steve Krug, onde ele nos apresenta, de uma forma simples e bem humorada, diversas dicas, técnicas, orientações gerais e exemplos de sites bem concebidos. As ilustrações usadas são atraentes, coloridas, explícitas e cheias de conteúdo. De onde se destacam exemplos a dois tempos: antes e depois. O que é sempre muito esclarecedor, sobretudo para os iniciados na área, como eu. Parece-me que o enfoque foi colocado sobre os aspectos cruciais do design das páginas Web e não tanto sobre a fundamentação teórica-científica que estará subjacente. O livro aborda conteúdos como: "User patterns; Designing for scanning; Wise use of copy; Navigation design; Home page layout; Usability testing; Usability as common courtesy; Web Accessibility, CSS, and you; Help! My boss wants me to ______."
Para mim, é um livro interessante, um verdadeiro clássico, para quem dá os primeiros passos nesta área do design, talvez, um pouco básico para situações de maior complexidade. Mas, na verdade, a minha visão analítica dos sites mudou depois de ter lido este livro.