Apresento mais uma lista retrospectiva de 2006, desta

vez a lista da revista

Businessweek

, com os melhores projectos de design de produto de 2006.

Com uma lista tão extensa e de tanta qualidade não havia espaço, neste artigo, para reproduzir todos os vencedores e nomeados, por isso, destaco aqui apenas os melhores de cada uma das 13 categorias. Destacando, obviamente, a "Pluma" da autoria de designers Portugueses!


Business & Industrial Products: ResQTec hydraulic rescue tools (Gold)




Credit: VanBerloStudio's B.V. (Netherlands)
Client: Zumro B.V. (Netherlands)
"This full line of hydraulic rescue equipment helps rescuers extricate people who are trapped, such as in vehicle accidents. New features have reduced weight, increased efficiency and safety, and improved ergonomics over previous models. In addition, the use of industry standard connectors allows the tools to be fitted to most hydraulic pumps used by rescuers. The bold colors and polished surfaces, which reflect the company's recent rebranding, help distinguish the tools from the competition. Since the line's launch, sales have tripled."
Computer Equipment: Talking Tactile Tablet (Gold)
Credit: Touch Graphics, Inc.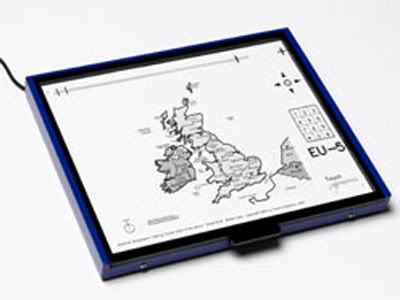 "The Talking Tactile Tablet system allows visually impaired individuals to access graphic imagery they otherwise would not be able to enjoy. Instead of using Braille, which the majority of visually impaired people do not read, users hear audio descriptions of each component of an image. Key considerations of the design were ease-of-use, ruggedness, cost and providing a pleasing aesthetic experience, namely how the product feels. The device was kept simple: only one moving part (the hinged frame that holds the tactile sheets in place) and no buttons, switches or even plugs. Although designers did not face the typical visual-centric concerns, the product acquired a kind of Zen-like simplicity normally associated with minimalist high-end design. As the population ages and the number of visually impaired people skyrockets, this system will fill a significant gap in the arsenal of assistive technologies."
Consumer Products: SignalOne Safety Vocal Smoke Detector (Gold)
Credit: Bresslergroup and SignalOne Safety f/k/a Kidsmart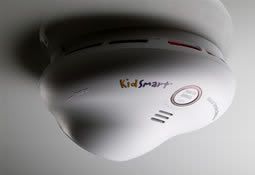 "The SignalOneSafety Vocal Smoke Detector uses a parent's recorded voice to wake children in case of a fire and provide them with evacuation instructions. The VSD is effective in waking nearly twice as many sleeping children as traditional smoke alarms. The device's interface makes it easy for parents to record the voice alarm message through a combination of written directions and step-by-step verbal prompts. Other features include an adjustable ceiling mount ring that allows the speaker to be pointed directly at the child's bed from anywhere in the room. Installation and battery replacement are easy, and the design's soft forms and low profile blend into a child's room yet it still looks professional and trustworthy. The VSD, the company's first product, has achieved mass distribution through major retail channels and received widespread publicity."
Design Explorations: Touch Messenger (Gold)
Credit: Samsung Design China (Korea), Samsung Design China (China), Samsung Design China (US)
"The Touch Messenger gives blind users in China an affordable, user-friendly cell phone experience on par with sighted users. Current text messaging devices for the blind convert text to speech via a text reader, which negates the privacy and unobtrusiveness intended with this form of communication. With the Touch Messenger's innovative screen and keyboard for Braille text messaging, blind users can now take advantage of this rapidly growing form of communication. In addition, products for the disabled tend to lack the emphasis on design and aesthetics as those for the general population. Therefore, the design is as much a fashion statement as it is a tool. Its soft, curved form not only allows for easy use with either hand but also appeals to the blind with its great tactile feel and to the sighted with its simple, clean, organic look."
Design Strategy: Sirius S-50 Design Strategy (Gold)
Credit: ZIBA Design, Inc. and Sirius Satellite Radio
"This design strategy involved an entirely new line of satellite radio products. Designers were asked to define the family of devices and develop a visual language as well as build an overall brand identity with the hopes of increasing the adoption of satellite radio technology. Extensive research provided a direction: reinvent the radio experience by combining the nostalgic simplicity of traditional radio with the control and advanced technology of digital media. Therefore, the variety of devices (portable media player, car dock, executive speaker dock, boom box and home dock) gives ultimate portability and flexibility to the listening experience, including one-touch song recording and the ability to generate play lists from favorite stations. The simple, intuitive, familiar interface makes it easy for the user to take advantage of the revolutionary features of satellite radio technology. After the line debuted, Sirius subscriptions were up by 97 percent and revenues by 250 percent."
Ecodesign: SIM from Tricycle (Gold)
Credit: Tricycle, Inc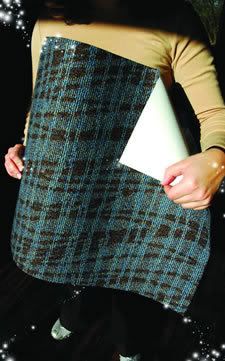 "Carpet samples contribute an estimated 1 million pounds of waste to America's landfills every year. They are also expensive to produce--$250--500 each, a cost mills are forced to swallow as a loss leader. A cost-effective and environmentally sensitive alternative, SIM digitally models carpet and textiles for manufacturers when prototyping new designs and for architects and designers when reviewing samples in the early stages of a project. SIM produces color-accurate renderings by capturing the fiber color under a specific light source and even includes a representation of the design's pattern by actually simulating the carpet machine manufacturing. The samples use 95 percent less energy and water and are 100 percent recyclable into paper products. Produced on-demand, there is no excess inventory, and wait times for designers are cut from days, sometimes weeks, to 24 hours."
Environments: Construction Fence (Gold)
Credit: Duck Image Co., Ltd.
Client: Productivity Architect Co. LTD (Taiwan)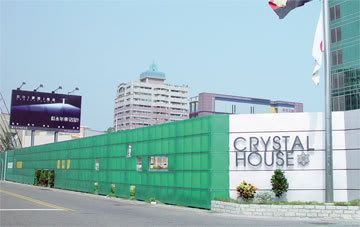 "In areas with strong winds, safety fences around construction sites are frequently damaged. This design combats this situation by using a semi-transparent, high-strength plastic polymer in a modular fashion able to sustain Class 16 wind. It provides all functional elements, such as doors, and addresses safety factors, such as durability, wind resistance and transparency for visibility. It also offers a more visually appealing alternative to traditional construction fences. The fence is easily dismantled and stored for later use, and individual panels are easily replaced if damaged."
Furniture: THINK (Gold)
Credit: Glen Oliver Loew Industrial Design (Germany) and Steelcase Inc.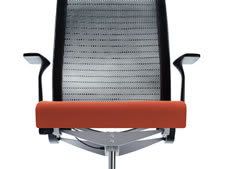 "THINK is a high-performance desk chair that targets consumers who want high value and performance at mid-market pricing levels. Research found that most users rarely bother adjusting the complex controls found on most task chairs and that work surfaces often conflict with chair arms forcing users into poorly supported postures. The THINK chair "thinks" for you. It automatically adjusts the tension of the back support and moves fluidly with your body, providing support in proportion to your body weight. The chair can also support an optional headrest and adjustable lumbar support. In addition to conventional adjustments for height and pivot, the arms can retract front to back bringing workers closer to their work. THINK's appearance is clean and contemporary, and its functionality, approachable and intuitive."
Medical & Scientific Products: Cybertech MAT Mechanical Advantage Tourniquet (Gold)
Credit: Cybertech Medical and Ewing Design Group

"The MAT is a next-generation tourniquet for military, law enforcement and emergency services applications. Besides meeting numerous Department of Defense performance requirements (occludes blood flow in less than one minute, applicable to a trapped limb, one-handed application, useable on both an arm or leg, easily released and reapplied, and weighs less than 8 ounces), the design needed to be easily understood and self-applied by someone in extreme stress. Its clean, simple design and obvious visual cues make operation intuitive. A gaping hook at the top end of the unit indicates that something attaches to it. The only possibility available to the user is the tension-lock buckle on the strap. After completing this step, visual cues on the brace indicate that the large turnbuckle needs to be turned, whereby the blood flow stops. The design has been successfully used in combat conditions, in the dark, underwater and in extreme weather conditions."
Packaging & Graphics: Pluma (Gold)
Credit: Brandia Central (Portugal)
Client: Galp Energia SGPS (Portugal)
"Pluma is a lightweight canister for storing and transporting LP gas for domestic use. Named after the Latin term for a bird's feather, Pluma is 50 percent lighter than traditional steel cylinders. And due to its polyethylene composition, Pluma doesn't sound like a normal gas canister either. The exterior is covered with a heavy grain texture for a soft look and warm touch, and the interior is comprised of a pressed, coated steel plate liner less than 1 mm thick. The ergonomic design of the collar and rounded handle provide greater comfort and efficiency when lifting or handling. Its clean shape and bright coloration is also more suitable for household environments. Its iconographic design sets a new standard for mass-produced lightweight LP gas cylinders."
Research: Lenovo Visioneering (Gold)
Credit: ZIBA Design, Inc. and Lenovo Group Limited (China)
"Lenovo, the largest computer manufacturer in China, succeeded for years by selling low-cost PC clones to consumers. With a growing consumer market and expected competition from abroad, Lenovo decided to reinvent itself. The company faced a problem: it did not know what their customers wanted, what their essence was or even what they looked like. Lenovo asked ZIBA to help Lenovo define its next-generation desktop PC, notebook and cell phone so it could better compete on meaning and value, rather than price. ZIBA's extensive research resulted in a 36-month strategic product plan for each platform as well as a defined segment map (based on behavior, attitudes and values) to guide future development of appropriate products for target consumers. Product lines are now organized around the needs of specific "tech tribes." This research also gave Lenovo a fundamental understanding of Western approaches to creativity and markets. Within months of the completion of this project, Lenovo cemented its commitment to high-value design by acquiring IBM's PC (ThinkPad) business unit."
Student Designs: The MIN.CHAIR (Gold)
Credit: Chul Min Kang
Client: Pratt Institute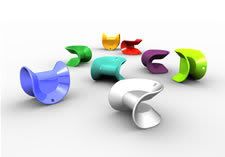 "The MIN is a fun, engaging chair for children aged five to eight that also converts into a rocking chair. Made from a single piece of injection molded plastic, the design offers great manufacturing efficiencies and could be produced in a wide range of fun colors. With no legs and its single, rounded form, the MIN.CHAIR is ambiguous at first glance. But the cleverness of its dual function soon wins over all who see it."
Transportation: BRP, Sea-Doo, Challenger 180 (Silver)
Credit: BRP Design Team (Canada)
Client: BRP - Bombardier Recreational Products Inc. (Canada)
"The design objectives for the Challenger 180 sport boat were clear: combine all the amenities found on a conventional 20-foot boat into an 18-foot deck layout that can comfortably carry eight passengers and their gear. The boat is truly innovative in both its styling and the manner in which it maximizes space. Designers integrated the bumper line into the boat's dynamic curve, visually uniting both hull and deck and giving the Challenger 180 a look like no other boat on the water. Space efficiency was achieved with hide-away storage compartments, minimizing the wall width and an optimized seating arrangement. Following its introduction, the Challenger has exceeded volume expectations making it one of the top selling boats."