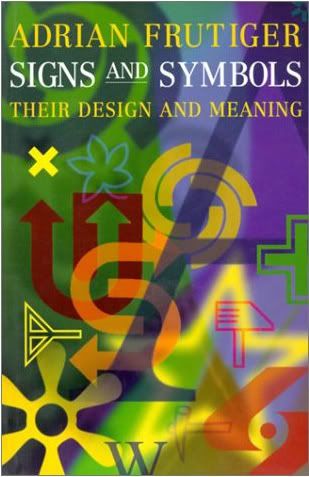 Frutiger, Adrian (1998) Signs and Symbols: Their Design and Meaning. Watson-Guptill.
ISBN-10: 0823048268;
ISBN-13: 978-0823048267.
Na sequência do post que o Corto publicou ontem, a minha sugestão de leitura, para esta semana, é um dos diversos livros escritos por Frutiger. Neste livro, já um clássico, "Signs and Symbols: Their Design and Meaning" podemos encontrar muita informação sobre a história e evolução dos símbolos e também podemos obter uma ampla variedade de símbolos e suas variantes. O autor aborda ainda questões relacionadas aos princípios básicos do design gráfico.
É universalmente aceite a importância dos símbolos, pictogramas e ícones como meio de comunicação. Porém, a verdade é que existem boas e más soluções. O problema dos designers é saber que formas, que configurações funcionam e que outras não funcionam. Saber quais as soluções que chamam mais a atenção e ficam registadas com mais força na memória e quais as que passam completamente despercebidas aos utilizadores.
Foi um livro muito útil, para o meu trabalho, especialmente nas reflexões que apresenta sobre o reconhecimento e a compreensão dos símbolos.
Resmo de conteúdos:
Sign Recognition, Sign Formation; Introduction: Three Themes; The Elements of a Sign; The Basic Signs; Joining Signs Together; The Sign in Ornaments; Signs of Dualism; The Solid; The Simulation of Volume; The Diversity of Appearance; Attempt at a visual synthesis; Speech-Fixing Signs; From Thought to Picture; Speech Fixing; The Graphic Wealth of Pictograms; The World's Alphabets; The ABC of the Western World; Development of Form through Writing and Printing Techniques; Manipulated Letterforms; Text Type and Its Legibility; Numerical Signs; Punctuation Signs; Sign, Symbol, Emblem, Signal; From Illustration to Symbol; The Symbol; The Graphic Wealth of Figurative Symbols; Abstract Symbols; Signs of Pseudoscience and Magic; Signature Signs; Signs of Community; Trademarks; Technical and Scientific Signs; Signal Signs;