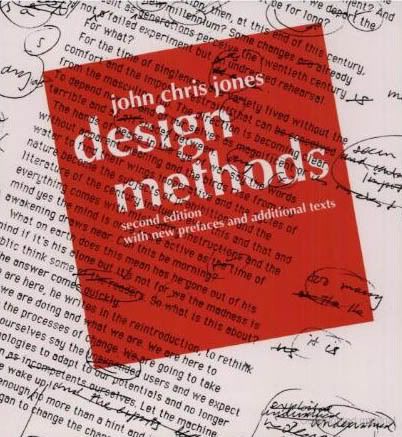 Jones, John Christopher (1992 ),
Design Methods.
Wiley. 2 edition.
ISBN-10:
0471284963
ISBN-13: 978-0471284963.
"Alongside the old idea of design as the drawing of objects that are then to be built or manufactured there are many new ideas of what it is, all very different:
designing as the process of devising not individual products but whole systems or environments such as airports, transportation, hypermarkets, educational curricula, broadcasting schedules, welfare schemes, banking systems, computer networks;

design as participation, the involvement of the public in the decision-making process;

design as creativity, which is supposed to be potentially present in everyone;

design as an educational discipline that unites arts and science and perhaps can go further than either;

and now the idea of designing Without a Product, as a process or way of living in itself."
Este livro escrito por John Christopher, um dos fundadores do movimento de desenvolvimento das metodologias do design, não podia faltar na nossa selecção. É um verdadeiro clássico, editado pela primeira vez em 1970. Nele, são avaliadas cerca de 35 metodologias que, vão desde o clássico design através do desenho até ás mais modernas formas de design iteractivo. As metodologias são descritas de forma acessível, para que um designer possa escolher, fácil e rapidamente, aquela que é adequada à sua actual situação projectual.
Apesar da sua antiguidade, fiquem a saber que muitas das mais modernas metodologias são baseadas nas propostas feitas por este autor. Este livro é de uma importância extrema para qualquer designer, professor ou aluno, de qualquer área do design.
Mais detalhes e o índice no GoogleBooks.